->Basics<-

Name: Miranda
Age: 15
Birthday: May 13, 1990
Location: Rochester, NY
Sexuality: Straight
Status(pic if taken): Single


->Favorites<-

Bands:7 Seconds of Love, A-Ha, AC/DC, Aerosmith, The Allman Brothers Bamd, Aqua, The B-52s, Barenaked Ladies, The Beach Boys, The Beatles, The Breeders, The Buggles, Camper van Beethoven, The Charlie Daniels Band, Derrick and the Dominoes, The Eagles, ELO, Eurythmics, Fountains of Wayne, The Go-Gos, Goldfinger, Green Day, Imperial Teen, Ingram Hill, Journey, Kiss, Madness, The Mamas and the Papas, Men Without Hats, Moby, Nirvana, O'Jays, The Partridge Family, The Polyphonic Spree, Queen, R.E.M., Relient K, Right Said Fred, Rooney, The Seeds, Simple Minds, Sixpence None the Richer, The Smiths, Spanky and Our Gang, Spoon, Stephen Speaks, Suicidal Tendencies, Tenacious D, They Might be Giants, Thin Lizzy, Twisted Sister, The Vapors, Vengaboys, The Weathergirls, The Who
Singers:Billy Joel, Bob Mould, Carole King, Cat Stevens, Constantine Maroulis, Cyndi Lauper, Don McLean, Elton John, Eminem, Frank Black, James Taylor, Jason Mraz, John Lennon, Johnny Cash, Jonathan Richman, Led Zeppelin, Lou Reed, Loudon Wainwright III, M, Mama Cass, Meredith Brooks, Nena, Petula Clark, Pink Floyd, Robyn Hitchcock, Rufus Wainwright, Simon and Garfunkel, Sir Mix-a-Lot, Skye Sweetnam, Stephen Colbert, Stephen Lynch, Stephen Trask, Sugar Ray, Van Morrison, Warron Zevon, Weird Al
Movies:Almost Famous, Rocky Horror Picture Show, Rat Race, Finding Nemo, Pirates of the Caribbean, Chicago, October Sky, Moulin Rouge, Willy Wonka and the Chocolate Factory, Napoleon Dynamite, Jackass the movie, Hedwig and the Angry Inch, Reefer Madness, The Wizard of Oz, Cry-Baby, Dodgeball, Mystery Science Theater 3000: The Movie, The Producers, Rent, When Harry Met Sally, The Breakfast Club
Beache(s): Myrtle Beach
Books: u> Harry Potter </u> series, by J.K. Rowling, u> The Perks of Being a Wallflower </u> by Steven Chbosky, Please Don't Kill the Freshman by Zoe Trope, Tuesdays with Morrie by Mitch Albom, Abarat by Clive Barker, Dr. Franklin's Island by Ann Halam, After by Francine Prose, Born Blue , When We were Saints , and any other book by Han Nolan, This Lullaby , Keeping the Moon , and any other book by Sarah Dessen, The Wanderer , Walk Two Moons , and any other book by Sharon Creech, Smack by Melvin Burgess, Speak by Laurie Halse Anderson, u> The Sisterhood of the Traveling Pants </u> and its sequels, The Second Summer of the Sisterhood and Girls in Pants: The Third Summer of the Sisterhood all by Ann Brashares, A Great and Terrible Beauty by Libba Bray, Watership Down by Richard Adams, Durable Goods and its sequels, Joy School and True to Form by Elizabeth Berg, Confessions of Georgia Nicholson series by Louise Rennison, Persepolis by Marjane Satrapi
Actres/Actor:Alix Corey, Amy Spanger, Audra McDonald, Brent Carver, Cameron Mason, Carole Bishop, Carolee Carmello, Catherine Zeta-Jones, Daphne Rubin-Vega, Dequina Moore, Donna McKechnie, Douglas Sills, Evan Pappas, Howard Ashman, Hunter Foster, Jeff Edgerton, Jerry Dixon, Jessica Molaskey, John Cameron Mitchell, John Hickock, Kerry Butler, Kirk McDonald, Michael-Leon Wooley, Michael Stuart, Nathan Lane, Nicole Kidman, Norbert Leo Butz, Pamela Blair, Priscilla Lopez, Raul Esparza, Renee Baughman, Rob Bartlett, Ron Kuhlman, Rufus Bonds Jr., Wayne Cliento
Person:Either Jonathan Larson (who wrote the musicals Rent and tick...tick...BOOM!, Constantine Maroulis, my best friend Tara, or my Aunt Jenny


->Opinions<-

Love:"The greatest thing you'll ever learn is just to love and be loved in return." That quote, in case you didn't know, is from Moulin Rouge, one of my favorite movies. I feel that love is one of the strongest forces of all, and that loving someone is such a wonderful feeling.
Abortion:I'm pro-choice, but I don't know if I could trudge that path. I don't think that there should be a constitutional amendment banning abortion, mostly because the constitution was created to provide freedoms to the citizens of this country, not take them away. Adoption is a solution that a lot of people forget to consider. And no matter if abortion becomes illegal or not, women will still find a way to have the operation. I think that abortions should be legal so that the women who do get them will be ensured a clean and safe procedure.
Drinking:As for drinking, I think it's ok if you have a beer/wine on special occasions and such, but not so much that you become an alcoholic.
President Bush: Sucks.


->Pictures <-
Post 3 face shots and atleast 1 body shot: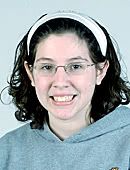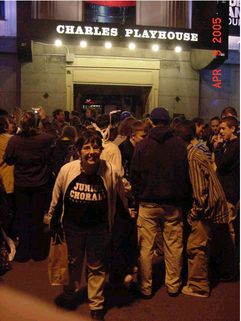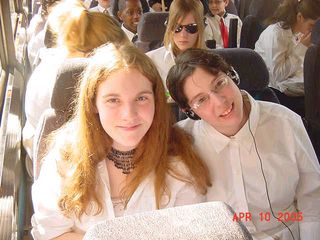 Any random picture you want to show us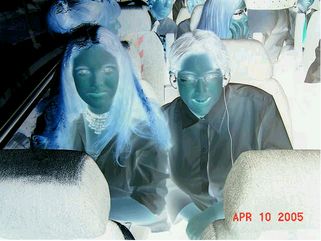 Promote us in 3 places::
Show the links::
http://community.livejournal.com/000000000000008/2573999.html
http://community.livejournal.com/0_0promote0_0/1885971.html
http://community.livejournal.com/00000000000000c/3255874.html


Any last words?:
You can get anything you want at Alice's restaurant...